CLASS 10TH RESULT 2018 CBSE ANNOUNCED CLASS 10TH RESULT 2018 CBSE ANNOUNCED -Central Board of Secondary Education (CBSE) declared the 10th result of
CLASS 10TH RESULT 2018 CBSE ANNOUNCED
CLASS 10TH RESULT 2018 CBSE ANNOUNCED -Central Board of Secondary Education (CBSE) declared the 10th result of CBSE 2018. More than 16 lakh candidates can now review how they conducted the exam. The Council announced the result online at cbseresults.nic.in. Students can also check the class 10 result of cbse.nic.in and results.nic.in.
To check the result, applicants should simply visit the official website. Then candidates must click on the link "CBSE – Class X Examination – Announced May 29, 2018".
This leads to a new portal where applicants must enter the registration number, date of birth, school number and center number. Then the candidates have to click on the "Submit" button. Then check and download the result.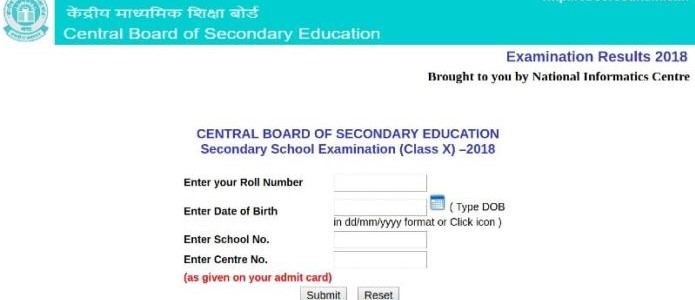 This year, CBSE has offered several ways to examine the results of grade 10. Candidates can also view it from the Microsoft SMS application, the UMANG application, DigiLocker, IVRS, SMS and Google.
The result can be checked offline via IVRS, SMS and Microsoft App. Applicants should simply download the SMS Organizer for Android to register by entering the role number, school code and date of birth. The result will be communicated to the candidates by SMS.
On the other hand, to verify the result using the IVRS, applicants should call 24300699 if they are from the Delhi area, or 011-2430699 if they are from another region.
To check the result of class CBSE 10 by SMS, candidates must send an SMS to 7738299899. The message should be framed as follows: – cbse12 <role number> <school number> <center number>.
DigiLocker allows applicants to upload their digitally signed marks and documents. To do this, applicants must create an account by providing basic information such as name, date of birth, gender, birth number, etc. Candidates will then receive a username and password, from which candidates can download the score sheet.
The UMANG app is available in the Play Store. Candidates should simply install it and check the result. This year, Google worked with CBSE to publish the results portal on the homepage.
Applicants must only enter CBSE Class 10. Score 2018 on Google and a portal will be displayed. This allows candidates to check the result.
Best wishes to all the candidates who will review their CBSE Class 10 2018 results.
We hope you qualify the exam with flying colors.