ACMS Admission 2018 ACMS Admission 2018 -ACMS offers admission to a four and a half year MBBS course. ACMS does not perform admission examinations. A
ACMS Admission 2018
ACMS Admission 2018 -ACMS offers admission to a four and a half year MBBS course. ACMS does not perform admission examinations. All admissions are made by GGSIPU based on the National Eligibility cum entry test (NEET) results.
There were 100 seats for the MBBS program at ACMS, which are occupied by students / children of eligible military personnel and the booking of places for students in the SC / ST category would be according to the government. Of NCT Of Delhi Politics. The joint council will be carried out by Guru Go bind Singh Indraprastha University for the admission of the MBBS to the College of Medical Sciences of the Army for the academic session 2018-19.
Admission to the Military College of Medical Sciences (ACMS) 2018
The joint board for admission to the MBBS program at ACMS would be headed by Guru Gobind Singh Indraprastha University for the current academic year.
After NEET results are reported, the University will post on its website NEET results download dates. Applicants must log in with their username and password (generated at registration and uploads their NEET results / dashboard.) On this basis, the University will prepare a merit list / program for the advice, which will be posted on the GGSIPU website.
Eligibility Criteria
Admission to ACMS is for children of army personnel who meet the requirements, former army personnel and widows of the war / widows of the military. Children in the following categories of Army personnel are eligible and must present the relevant certificate as awarded in their respective category as proof of eligibility for admission to ACMS at the time of counseling / admission:
Applicants must belong to one of the following categories:
Children of army personnel with at least 10 years of continuous service in the army.
Children of former military personnel receive / receive a regular pension, a family pension, a liberalized family pension or a disability pension at the time of retirement, departure, leave or leave / disability. These include children of recruits who are medically available for availability and receive a disability pension.
The children of former members of the army who left or was dismissed after ten years of service.
Adopted / not the children and children of remarried widows:
Adopted children of army personnel if they were adopted at least five years before being admitted.
Stage children are eligible if they come from a marriage in which at least one parent has been a member of the military and is otherwise entitled.
Eligibility in special cases:
Children of military doctors / dentists currently serving in the navy or air force who served in the military for at least 10 years.
Children of APS personnel who have been classified as ex-military according to government information. India, Ministry of Defense, Letter No 9 (52) / 88 / D (Res) of 19 July 1989.
The children of APS employees who are Members of Parliament and served for 10 years in the army.
The children of APS employees hired directly by the GSP took part in 10 years of service and, according to their terms of service, left the GSP without having completed their service in the P & T department. Pension for 10 years.
Children of MNS members who work as regular members of MNS for 10 years or receive an army pension.
Children of AT employees who have completed 10 years of incorporated service.
age limit
You should have reached or reach the age of seventeen, as of December 31 of the year of admission. The maximum age limit is 25 years old.
School qualification
Applicants must have passed Grade 12 as part of the 10 + 2 / CSBE or Intermediate Science (I.Sc.) or equivalent examination from a recognized university / state with English, PHYSICS, CHEMISTRY and BIOLOGY. The minimum number of ENGLISH, PHYSICAL, CHEMICAL and BIOLOGICAL grades obtained during the qualifying examination to participate in this examination is:
General Applicants and CBOs: 60%
SC / ST candidates: 50%.
Cut for admission
The merit list is compiled based on the results of the university's NEET 2018 exam. The 2017 batch cuts for ACMS entries, based on the All India NEET ranking, are as follows: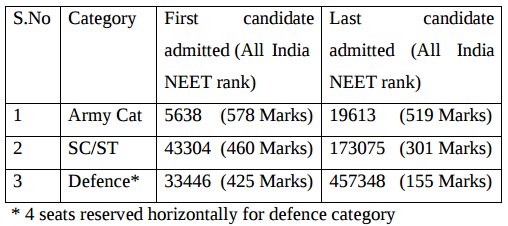 Seat Matrix
The tentative details are as below:-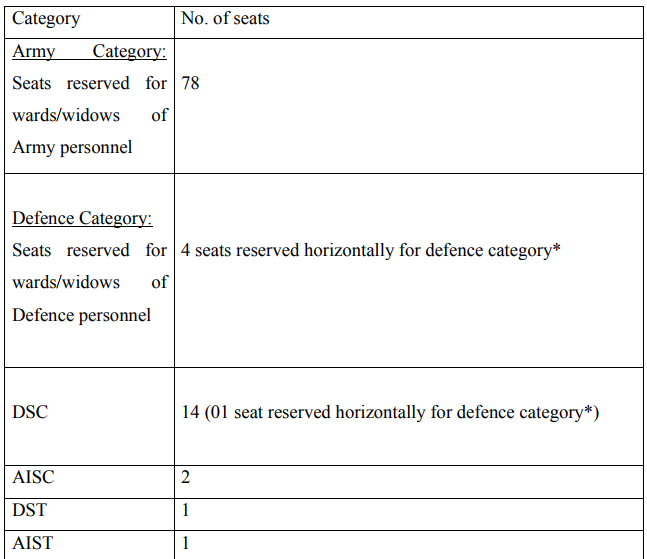 Fees Structure
Fee structure of 2018 batch is under revision. The details of fee charged to previous batches are as under:-
2016 Batch: College Tuition fee – Rs 360000.00, University Fee – Rs 12000.00, Student Activity Fee – Rs 1000.00
2017 Batch: College Tuition fee – Rs 360000.00, University Fee – Rs 15000.00, Student Activity Fee – Rs 1000.00
Important notes for applicants for admission to ACMS
They are listed below.
It is the responsibility of the candidates to check if they have the necessary qualifications to be admitted. However, a written test or a consultation does not necessarily require the recognition of the authorization.
The final authorization will be decided by CASI at the time of the consultation and later also during the review of the documents by the university. If at any time before or after the beginning of the course a candidate is considered ineligible, the university / university reserves the right to cancel the application without reimbursement of the fees / fees paid.
Additional documents to be submitted in the original with a photocopy at the time of ACMS consultation / approval:
Proof of eligible category (if applicable, submit certificate)
Original and photocopy of PPO, Service Book / Discharge Book, Identity Card / Certificate of Service and Dependent Card
Memorandum of Understanding
Air, sea and paramilitary forces such as CRPF, BSF, ITBP, CISF, AssamRiffles, GREF and DSC are not authorized to allow ACMS for station / widow positions for military personnel.
For the handicapped category, 5% of places (horizontal) are reserved in non-military / widow seats in each region / category. Applicants with a musculoskeletal disability with a musculoskeletal handicap of only 50% to 70% are eligible and can apply as instructed by the Indian Medical Council.
For the Defense category, 5% of seats in non-military neighborhoods / widows in all categories for non-military districts / widowed seats must be reserved horizontally.
Official website: www.ipu.ac.in.